Steak, Onion & Tomato With Gravy
diner524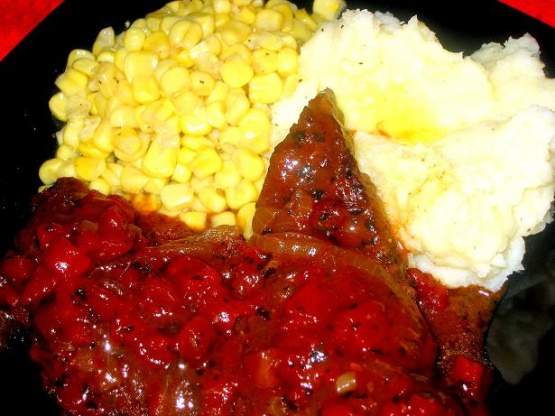 This casserole can be done in the oven or the crock-pot. You can use tinned tomatoes instead of the fresh ones but cut back on the liquid, i.e. water & tomato sauce, a bit if you do that. Served with creamy mashed potatoes this is real comfort food.
This was very good dinner!!! I cut the recipe in half as there was only the two of us. I make a very similar recipe but without the wine and worcestershire sauce. This smelled so good while baking!!! Will definitely make this again, but will cut down on the worcestershire sauce or omit it and add some celery for added veggies. Thanks for a great recipe!!
Layer meat, onion, tomatoes & herbs & seasonings in a greased casserole dish.
Whisk gravy mix with water, wine & sauces, pour over meat & vegetables.
Bake at 180°C for approx 1 hour.
Serve with mashed potatoes.