Steak, Mushrooms and Bell Pepper Sandwich
lazyme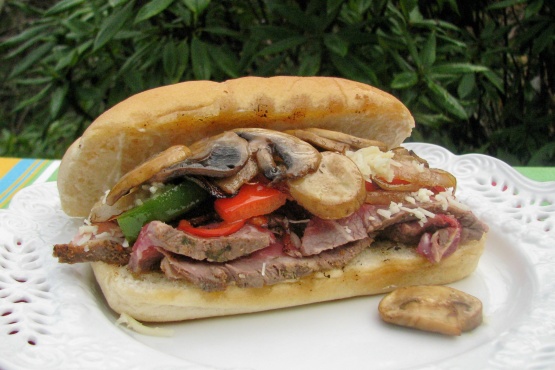 I think this might be close to a Philly Cheese steak sandwich, however I have never had the real thing, and I am certainly not going to call this a Philly cheese steak, I have made this many times for a Super Bowl get together using a tender cut of beef, sliced VERY thin. I have even purchased packaged ready-sliced stir-fry beef strips from the grocery store to make this sandwich, even though they are strips not slices they still work well for this, it saves a lot of slicing time too, also the mushrooms are optional, but I most always use them for this sandwich, saute the mushrooms in advance to save time. You will need about 2-3 pounds of beef for 6 sandwiches, if you are planning on making more than 6, then double all ingredients.
226.79-453.59

g white button mushrooms (sliced and sauteed in butter until browned) (optional)

3

large onions, sliced very thin

2

small green bell peppers, seeded and sliced very thin

2

small red bell peppers, seeded and sliced very thin

29.58-59.16

ml oil

2.46

ml garlic salt
salt and black pepper

907.18-1360.77

g uncooked beef, sliced thin (use a tender cut of beef like sirloin or tenderloin for this)

8-10

slice mozzarella cheese (or use a much as desired) or 8-10 slice provolone cheese (or use a much as desired)

6

soft Italian rolls, split in half
Saute the mushrooms in butter in a large frypan until browned; set aside.
In the same skillet saute the onions and peppers in oil with garlic salt and black pepper and salt until well sauteed; set aside to a dish.
In the same skillet fry the beef slices until browned but not crispy.
Add in the onions/green pepper mixture back to the pan and toss gently with the beef.
Place the cheese slices on top of the beef/green pepper mixture in the skillet and let melt.
Pile the mixture onto each bun top with sauteed mushrooms (if using) then cover with the top slice of bun.
Wrap each sandwich separately in a large piece of paper towel, and place in the microwave on HIGH for about 22 seconds to warm and soften the bun (this is optional but I always do this!).
Serve sandwiches while the beef mixture is still warm.