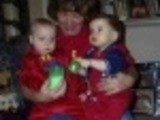 It's EASY AND TASTY! We ate a dish like this at Mr. Steak in Mpls. many years ago. We loved it so much that my DH spent time figuring out what was in it and came home to make it. It's probably not the exact recipe they used - but we've been enjoying this simple recipe for years.
4 1⁄3 lbs hamburger patties (ground sirloin, chuck, round, what ever you like)
salt, to taste
4 slices mozzarella cheese
8 ounces spaghetti sauce, with garlic
Directions
Grill the patties.
Salt, to taste.
Heat the spaghetti sauce.
Add a cheese slice on top of each patti to melt, right at the end of the cooking time.
Put on plate and cover generously with spaghetti sauce.
We serve this with pasta and a salad.
Most Helpful
I made the burgers on the grill and then put the sauce and burgers in a crockpot and took to the race track. We ate them as burgers and we enjoyed them. They were a bit messy though.

This was so easy to make with good results! Great for a quick dinner. I halved the recipe and served with penne pasta with spinach, and a romaine salad. Thanks Trisha, we will make this again!

My son made this for dinner ages ago. I didn't realize he had not rated it. It was his very first attempt at cooking a dinner solo. He served it on a bed of buttered spaghetti accompanied by a green salad. He was so proud of himself and it was very deliciouse. Making this dish has given him the confidence to try more things. Thank you for a tasty and simple dish.