Steak-Lovers' Leftovers (Sandwiches)
lazyme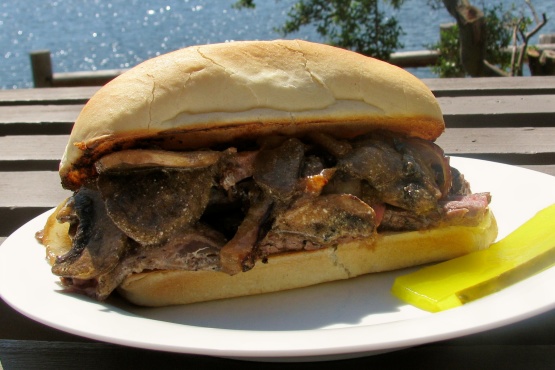 Amazingly enough, there was a little bit of beef tenderloin left after Christmas dinner last year. Looking for a way to stretch less than a pound to make a full meal for 4, I found this recipe from the Feb., 1990, issue of Gourmet Magazine. Everyone just lapped it up! While the quality of meat is obviously a big factor, you can use anything from tenderloin to grilled flank steak to deli roast beef with acceptable results.

Top Review by lazyme
Yum! I had some leftover rib-eye and made this sandwich as directed. I toasted the cut sides of a hoagie bun which I think really added a nice flavor and texture to the sandwich. Can't wait to have steak again to make this sandwich again, lol. Thanks highcotton for a great meal. Made for Chef Alphabet Soup Tag.
Heat 2 tablespoons butter and olive oil in large skillet over medium heat; add onions and cook, stirring occasionally, until golden.
(Note: The original recipe says to cook until"golden and crispy". I've never managed to get them crispy, but they're delicious just caramelized.) Using a slotted spoon to allow excess oil to drip back into the skillet, remove onion slices to paper towels to drain.
Reduce heat to moderately low and add mushrooms and garlic to skillet.
Cook in remaining oil, stirring occasionally, until mushrooms begin to turn brown; transfer mixture to a small bowl.
Pour broth into skillet and deglaze, using a wooden spoon to scrape up all the brown bits on the bottom of the pan.
Add cream, catsup, worcestershire and mustard.
(The recipe doesn't say to, but at this point I let it simmer a little while to reduce sauce and thicken a bit.) Cut bread loaf in half horizontally and butter each half lightly.
Cut each half into 4 equal pieces and toast in oven, buttered side up.
Stir sliced beef and mushroom mixture into sauce and heat thoroughly.
Place beef slices on bottom slices of bread, spooning desired amount of sauce over each slice.
Sprinkle caramelized onions over each sandwich and place other half of bread slices on top.