Bergy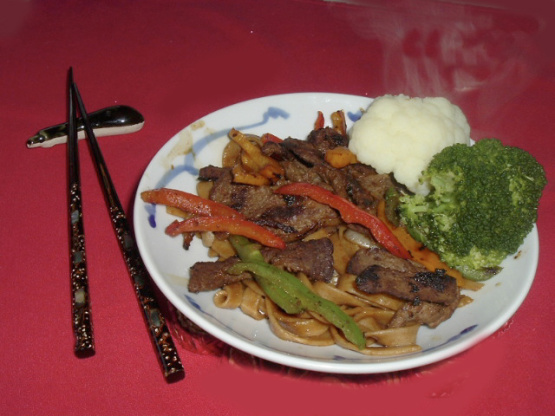 I came up with this recipe watching my mother cooking as my base and then Americanizing it with my taste and what I had on hand. The measurements are estimates and you could vary them to suit your taste.

Top Review by Bergy
Lovely flavor - I enjoy Adobo spice. Instead of scallions I used 1/4 sweet onion (just for flavor). I found it a bit dry so I added 2 tbsp Ketjap Benteng (An Indonisian sauce) I like my peppers crisp so added them for the last 5 min only . Instead of regular noodles I used Whole Wheat. Delicious dinner thanks Chef Christine
Cut bell pepper into thin strips and fry until the texture is soft. Add scallions about 5 minutes after the bell pepper.
While the bell pepper is cooking cut steak into thin strips. Coat with a little vegetable oil and then with adobo powder, Worcestershire sauce, and add garlic powder if you'd like. Add to peppers and scallions and cook until it is no longer red.
Boil noodles according to directions (my package is 3 minutes), strain and add to steak and peppers. Add soy sauce little by little tasting in between to make sure you did not put in too much. Add the sesame oil and mix well. Enjoy!