Steak Fillet With Mushrooms
chia2160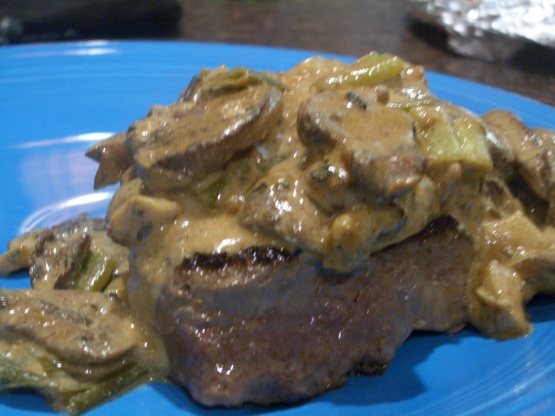 This is a simple steak recipe that tastes great, I served mine over sweet potato rosti which went really well. You can use any mushrooms you like, what ever is in season or your favourite. I used swiss brown, enoki and oyster, so take your pick. I used herbed butter to cook the mushrooms which I strongly recommend as it adds so much flavour to the sauce.

delicious! we love filet here and this was an easy weeknight dinner. the only change i made was to deglaze the pan with brandy, and the flames shot right up to the ceiling, very dramatic. the sauce was easy to prepare while the steaks rester, a keeper.
2

tablespoons olive oil

4

steak fillets (you will see from the photo mine were very thick about 300g a piece So cooking time reflects this.)

500

g mixed mushrooms, sliced and chopped (see note above for what I used)

3

garlic cloves, crushed

40

g herbed butter

1

teaspoon beef stock granules

180

ml creme fraiche

70

ml cream

1

teaspoon cornflour

3

green onions, sliced thinly

2

tablespoons fresh parsley, chopped finely
Pre-heat oven to 180 degrees celsius.
Heat oil in a pan, add steaks and sear 2 minutes each side, cook for a further 4-5 Min's a side.
Remove to an oven proof dish and cook for a further 15-20 Min's for Medium rare-Medium. Please adjust cooking times for thinner steaks as I said above mine were about 300g a piece and this cooking time gave us a tender steaks, nice and pink in the middle.
Sauce.
Melt butter in a pan, add mushrooms, cook, until almost tender, add garlic and cook for a further 2 Min's, stirring, so garlic does not burn.
Add creme fraiche, cream and stock, bring to the boil. Reduce heat to a simmer, mix a little water with cornflour, add to sauce and stir until mixture thickens.
Stir in onions and parsley, serve sauce over steak.