Steak Fajitas--Recipe and Method
K9 Owned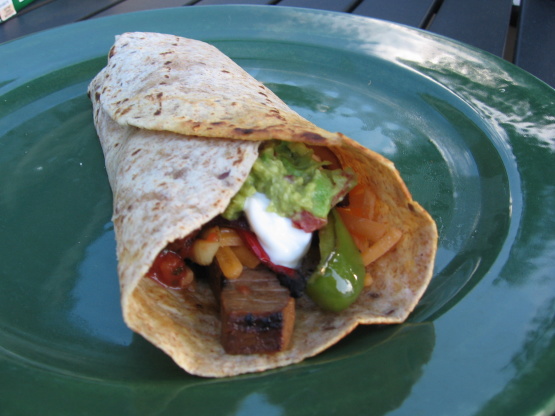 For perfect fajitas every time-Keith's Master Recipe! Make sure to check out the optional condiments at the end of the directions.

Top Review by MaMere
This is the absolute BEST fajita recipe....EVER! I made this recipe on Cinco de Mayo this yr, and Di, I accumulated so many princess points for it I almost feel guilty! <br/>Made with Skirt Steak, and used Red & Yellow Peppers, along with some sweet Vidalia Onions...Used leftovers (made the full recipe just for the 2 of us) for Taco Bowl Salads a few days later with no loss of flavor.<br/>Thank you thank you, Hubby thanks you too!
Tamari is aged soy sauce and can be found in most grocery stores.
In a blender combine the olive oil, tamari, green onions, garlic cloves, lime juice, red pepper flakes, cumin and brown sugar.
Blend until smooth.
Cut your skirt steak into 3 equal pieces.
Place steaks in a large zip-lock baggie.
Pour in marinade, remove as much air as possible and seal.
Move steak around in baggie so that all sides are coated.
Marinate in the fridge for 1 hour.
Wrap your tortillas in aluminum foil-seal.
Slice green peppers in half-remove seeds.
Peel and slice your onion into 1/4 inch slices.
Heat charcoal until grey ash is achieved.
Place grill grate "directly" on top of hot coals.
Heat grate for 10 minutes.
While grate is heating up get a 2 foot length of aluminum foil and fold over once. Crimp sides well to make a foil pouch. You will want to double if not using heavy duty foil.
Remove steaks from marinade-place directly onto hot grate.
Discard marinade in baggie.
Cook for 1 minute 30 seconds per side.
Remove, place on foil and seal.
Let stand in sealed foil packet for 15 minutes.
While steak is resting grill peppers and onion slices to desired doneness.
Place foil wrapped tortillas on grate for 3 minutes, flip and continue to heat for another 3 minutes.
Open foil packet carefully so that you reserve the juices.
Slice steaks thinly across the grain, straight down-no need to angle the slice, no more than 1/4 inch thick.
Return meat to foil packet and coat with juices.
Slice peppers and cut onion slices in half.
Dress your tortillas with meat, peppers and onions.
Optional condiments are sour cream, guacamole, shredded sharp cheddar or queso cheese, sliced jalapeños.
We have used flank steak with equal success. Lay the flank steak flat on a cutting board and carefully cut it in half widthwise (so that it looks like you have two thin flank steaks), cut one into 3 pieces and continue with recipe directions, freezing the other half for another night.
Prep time includes marinating time.