Sageca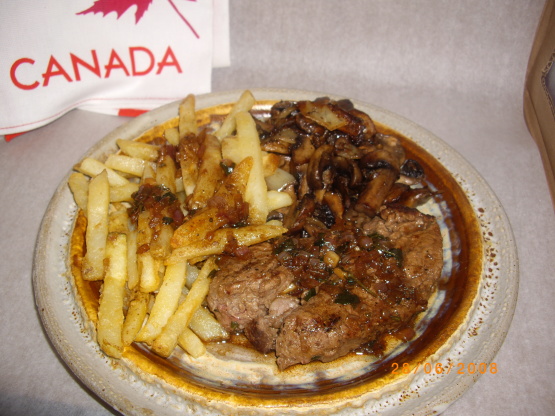 This is the classic Steak Diane my husband makes when he wants to prepare something special for us; This is a perfect meal; Serve with french fries and sauteed mushrooms.
Heat butter and oil.
Fry steaks for 1-2 minutes on each side.
Bring heat to High; Add brandy and ignite .
If you have no brandy rye would do.
Shake pan until flame is extinguished.
Remove steak from pan to a heated plate.
Add shallots and parsley, Worcestershire and cook slowly for 1 1/2 minutes.
Add consomme to pan 1 teaspoon at a time; bring to a boil.
Add salt and pepper.
Use only 1/2 can of consomme.
Return steak to pan.
Taste to adjust salt and pepper.
Meanwhile heat your serving plates in the microwave.
Spoon sauce over steaks and serve immediately on heated plates.