Nimz1466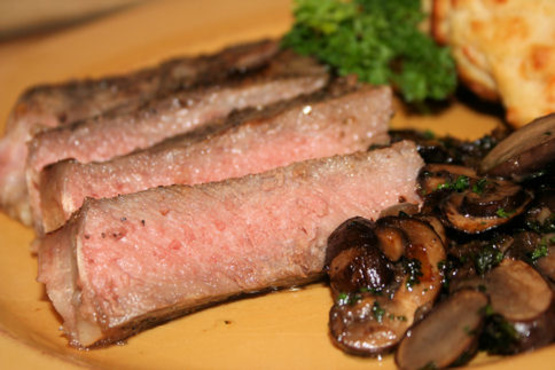 This recipe comes from Paula Deen. It is very rich, but delicious! We loved the mushroom sauce that goes over the steak.

This was a very nice Steak Diane. I doubled the sauce, using extra mushrooms and some extra lemon juice. Also used 2 New York Strips instead of the Beef Tenderloin. Cooked this using my stovetop griddle and the meat turned out very tender and juicy. Thanks so much for sharing. Made for Photo Forum Special. :)
Melt 4 tablespoons of the butter in a large skillet over medium heat. Add the mushrooms, onions, garlic, lemon juice, Worcestershire sauce, and salt, and cook, stirring, until the mushrooms are tender. Stir in the parsley; pour the sauce into a small metal bowl or saucepan, cover, and keep warm. Melt the remaining 2 tablespoons of butter in the skillet. Cook the steaks over medium-high heat, turning them once, for 3 to 4 minutes on each side for medium. Serve the steaks with the mushroom sauce.