lazyme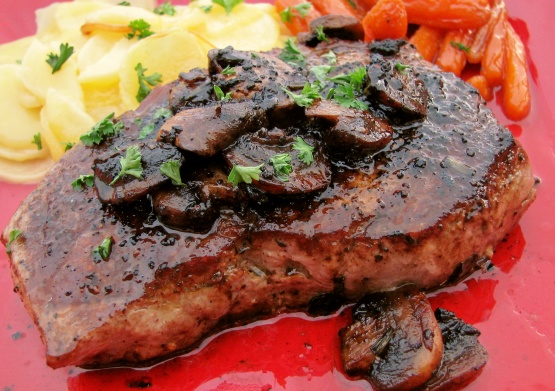 This is a wonderful recipe that not only brings out the full Steak Diane flavors, it also has pleanty of sauce to smother the steak in. Steak Diane should be cooked no more than medium rare to bring out the best of the steak and sauce. For the mushroom lovers out there, a nice option to this recipe is to add 1/2 can (small) mushrooms.

Top Review by lazyme
The taste of this steak was really good. I used rib-eye steaks and sauteed some fresh mushrooms to add to the sauce in step 4. The only problem that I had was that the sauce became rather oily. I might try adding a little bit of broth or cream next time to see if that would help. But, the taste was wonderful. Thanks Pace. Made for PAC Fall 2008.
Salt and pepper both sides of the steaks.
Melt 1 tablespoon of butter in a large heavy skillet. Once up to temperature add mustard and shallots and sauté over medium heat for 1 minute.
Melt 2 tablespoons butter in the skillet and cook the steaks over high heat for 1 minute to seal the steaks, turning only once. Cook a further 1-4 minutes on each side depending how you like your steak cooked (2 minutes for Medium Rare) Remove meat to serving platter and keep warm.
To the pan drippings add 1 tablespoon butter, lemon juice, Worcestershire sauce and chives; cook for 1 minute. At this time if you so wish canned mushrooms can be added. A option for a splash of brandy at this time is used in many recipes, however I find that it really does not add to the flavor.
Add steaks back to the pan for 1 minute to add heat to the steaks.
Serve steaks with the sauce on top and sprinkle the chopped parsley over the top.
Serve immediately.