DuChick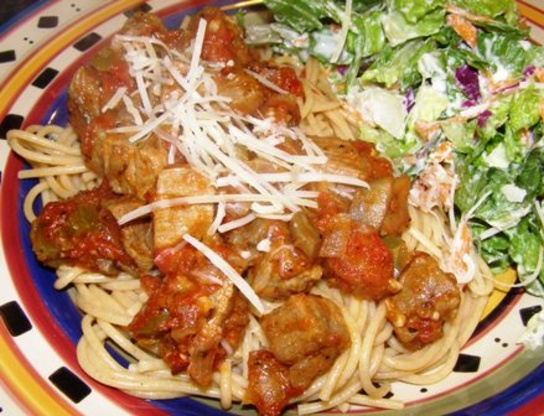 Can I give this recipe 10 stars? It was that good...I doubled it because of the piece of meat I had. I am very glad I did..the only thing I changed was I added a little red wine to it and a little more tomotes...and cooked it quite long...but boy was it tasty...
Spray large skillet with cooking spray: heat over medium heat until hot.
Saute beef, onion, bell peppers, garlic, and shallots until meat is browned and onion tender, about 10 minute.
Add remaining ingredients, except salt and pepper, linguine, parsley and Parmesaon cheese, and simmer, covered, until meat is tender, 45 to 60 minutes.
Simmer, uncovered until thickened to desired consistency, about 15 minutes.
Season to taste with the salt and pepper.
Serve over linguine: sprinkle with parsley and Parmesan cheese.