lawmama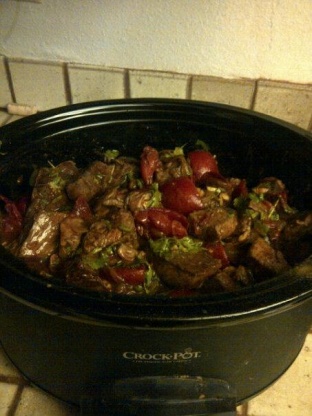 Incredible Portuguese/Hispanic comfort food. Thanks to my Dad for preparing this recipe so often when we were growing up.

Love this. I use round steak and Ro-Tel tomatoes and serve over rice.
Cut the chuck roast into 2-inch cubes and season with salt and pepper.
Heat oil on medium-high in a Dutch oven until shimmering.
Add the meat and brown on all sides.
Add sliced onion and saute for 5 minutes.
Add bell pepper and garlic and saute for another 5 minutes.
Add tomatoes, and seasonings and bring to a simmer.
Cover and simmer on low for three hours on stove. Alternatively, you may cover and put in a 300-degree oven and cook for three hours. You may also cook for 8 hours on low in a 6-quart slow cooker (or 6 hours on high).
Serve in tortillas with beans (like a burrito) or on its own in a bowl and enjoy!