Steak & Black Cherry Curry
Julesong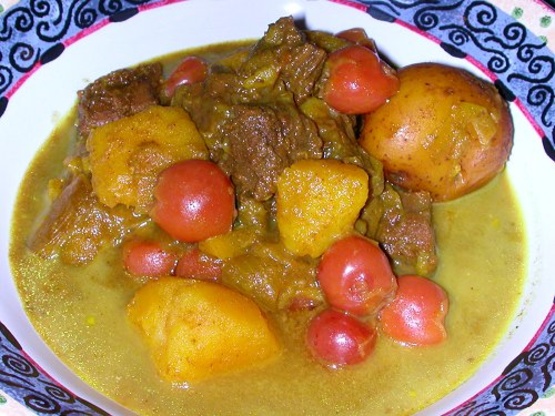 Snipped it from magazine long time ago, It's D-E-L-I-C-I-O-U-S! HOPE you say so! Quick, simple, easy to do, HOPE you enjoy it with your family too! I've changed recipe just a tad, WHEN you make it, you'll be GLAD you HAD!
Heat oil in pan and add slices onion, cubed steak and curry powder.
Cook over HIGH heat until lightly brown.
ADD Stock, cover and reduce heat.
SIMMER for 1 hour in oven at 150degress C (LOW)/300 F, stirring occasionally.
Then ADD potatoes (Peeled and cubed) and 1/2 cup water.
Stir in and allow to simmer for about 20 - 30 minutes and OR until meat and vegtables are tender.
When ready, stir DRAINED cherries through.
When ready, can also add small, drained pieces of pineapple and top with coconut flakes.
ENJOY!