K9 Owned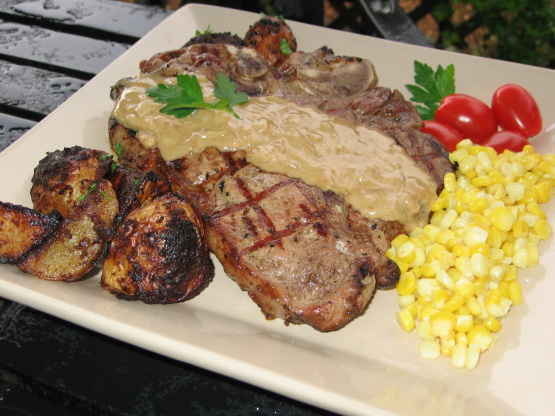 A classic in every French cookbook, Steak au Poivre is the perfect main course for a romantic meal. A recipe I found on About.com for French food. This is one that I would probably grill the steaks, as I love the added flavor they get from the grill, and then make the recipe for the sauce on the stove top or side burner. Note: You can use coarsely ground peppercorns in place of the black pepper stated for the recipe.

love the sauce! i grilled my steaks so i could not use the pans scrapings, i did however cut off some of the fat before i cooked the steak and sauted it in the butter and shallots, i also added a teaspon or so of dijon mustard along with the cream. this sauce was amazing, great flavor did not over power the steak at all, a must try
Season both sides of each steak with the salt and pepper.
Heat the oil in a large heavy skillet over high heat, and then sauté the steaks, 2 at a time, for 3-4 minutes on each side.
Transfer the steaks to a heatproof dish and keep them warm in a 175-degree oven.
Pour any leftover liquid from the skillet and lower the heat to medium.
Add the shallots and 1 piece of butter; sauté for 5 minutes, until cooked.
Carefully add Cognac (it may flame) and bring to a boil for 2-3 minutes until the sauce thickens.
Stir in cream and other piece of butter; heat through, stirring constantly.
Serve over steaks immediately.