Steak and Spinach Lasagna
Julesong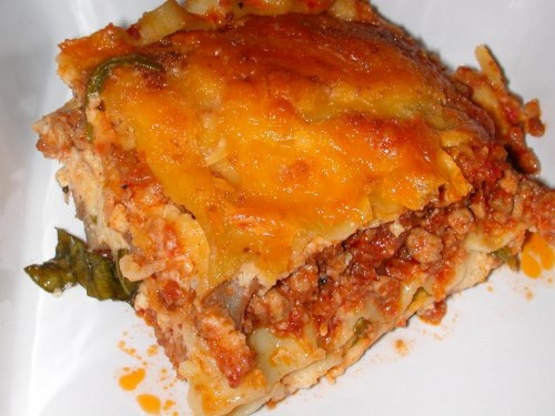 This is my husband's favorite lasagna recipe, from a cookbook he had before we were married. Today when asking him what he wanted for dinner we went on a kitchen foray to figure out what we'd make, and he came up with lasagna. "But my favorite recipe is pretty complicated, so I don't know if we really want to do that one." We got out the old book, looked at it, and... it's amusing, because the recipe is prior to our marriage he thought of it as difficult (he was a good bachelor cook, mind you), but in these days after several more years of cooking added to his experience, it's not too difficult at all. :) Anyhow, here it is, tweaked to our liking. Although long, it's not really that difficult and the rich and delicious end results are well worth the time. Steingrim says he likes to make the meat and cheese sauces the day before, then assemble the lasagna with less trouble the next day.
My mom learned a lasagna recipe while stationed in Hawaii from another air force wife who had not even set foot in the states. It is the lasagna I grew up on and the first time I tried someone's lasagna and found GROUND beef in it, I was like, "what the heck, why is there hamberg in this!!!" My tweak is to use the steak or any type of lean tender meat you choose, but don't grind it, please!!! Trim all fat and gristle off and then cut the meat into just over bite sized pieces, which you will brown will all your spices, onions and garlic. Also add some diced carrots and celery to the skillet after you drain the meat once it is browned. Carrots will help to cut the acidity of the tomato sauce and give a very slight touch of sweetness to your sauce.
Begin the meat sauce by whirring the tomatoes in the food processor to a puree of the texture you prefer; set aside.
If you are using un-ground steak, trim the meat of fat and gristle and grind it (we use the food grinder attachment on our KitchenAid).
In a heavy pan or pot, sauté the ground meat until browned, about 15 minutes.
Add the chopped onion, mushrooms, and garlic and sauté until the onion is transparent.
Add salt and pepper to taste, oregano, brown sugar, balsamic, and the tomato puree, and bring to a boil; reduce temperature, cover, and simmer for 30 minutes then uncover and let reduce until thickened, another 15 minutes, then set your meat sauce aside (can be made a day ahead and stored in refrigerator).
Begin the cheese sauce by melting the butter in a saucepan over low heat, then while whisking sprinkle in the flour, salt, white pepper, nutmeg, and cayenne or Tabasco (if using); cook, whisking or stirring, for 1 minute.
Raise temperature to medium-high and gradually add milk, whisking continually, until well-incorporated; bring to a light boil then reduce heat to low and cook while stirring for 1 minute.
Remove sauce from heat, stir in the cheddar and Parmesan until cheeses melt; set aside (can be made a day ahead and stored in refrigerator - microwave cheese sauce for 2 to 3 minutes to make it easier to spread when assembling the lasagna).
Cook the lasagna noodles according to package directions.
Preheat oven to 350 degrees F; lightly oil the bottom of a 11x9-inch baking dish or lasagna pan.
Begin assembling the lasagna (3 layers pasta, two layers of sauce mixtures): cover the bottom of the pan with one layer of 3 cooked lasagna noodles, then spread noodles with half of the meat sauce, then cover meat sauce with half of the cheese sauce.
If using frozen and thawed spinach, press or squeeze as much liquid out of it as possible; sprinkle cheese layer with the chopped fresh basil, then spread the fresh or frozen spinach over.
Top with another layer of 3 pieces cooked pasta, spread with remaining meat sauce, then remaining cheese sauce, and top with the final layer of 3 pieces cooked pasta.
Combine the grated cheddar and Parmesan in a bowl, then sprinkle it over the top of the lasagna.
Bake at 350 degrees F for 45 minutes and the cheeses are bubbly and golden; remove from oven, let stand for 10 minutes, and serve with salad, garlic bread, and balsamic roasted asparagus.