Steak and Salsa Tortillas
Prep 13 mins
Cook 12 mins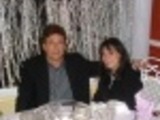 From Good Food Magazine, March 1986
Directions
Heat oven to 250 degrees. Wrap tortillas in 1 piece aluminum foil; place in oven.
Heat oil in cast-iron skillet over medium-high heat until hot. Add steak and cook covered 5 minutes. Turn steak, sprinkle with 1/4 t. salt and increase heat to high. Cook covered 5 minutes. Remove meat to cutting board and let stand 5 minutes.
Meanwhile, combine sour cream, scallions, cumin, 1/4 t. salt, and pepper.
Thinly slice beef.
Heat taco sauce in skillet until hot. Add beef. Spoon sauce over meat; sprinkle with cheese. Heat until cheese melts, about 2 minutes.
To serve steak, spoon meat mixture onto tortillas; top with dollop of sour cream Fold tortillas and serve.
Reviews
Most Helpful
This is FANTASTIC!! I will definitely be making this again! It had so much flavor, smelled absolutely delicious and was VERY filling! Awesome recipe JackieOhNo and thanks for sharing it!
Speaking for myself, and not weekend cooker, we were absolutely delighted with this recipe. I did add a pinch red pepper, and very chopped hot peppers to these. He was wondering how this got away from being reviewed so far. Very filling, appetizing, and flavorful. Made for Potluck tag...