Steak a La Moutarde (Steak With Mustard Cream Sauce)
Zurie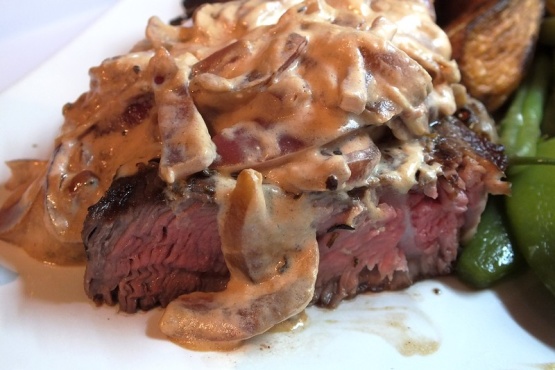 Mustard is not just for hot dogs anymore. This steak is fast and easy to prepare and would go well with most any side dish. Once the mustard has been added, do not allow to boil or the sauce will become unpleasant.

Top Review by Zurie
Yum!! Maybe not a new idea, but this worked well for me, having run out of enthusiasm for nightly dinners! I did halve your recipe, as we are only 2, and I rubbed the steak with an impressive mixture of herbs, crushed coriander and bound with a little olive oil, and left it for hours in the fridge. Note that any steak should be at room temperature before being put into a smoking-hot pan (I use a griddled pan). About 2 - 3 minutes a side (the chefs say don't keep turning it), then "rest" it -- I let mine rest in a warming oven -- and over goes your sauce. Delicious!! I did not have shallots and used chopped onions, which look like mushrooms in the photos!! :-) Thanks!!
Season steaks on both sides with salt and pepper. Heat oil in a large heavy skillet over high heat until almost smoking. Add steaks and cook 4 to 5 minutes and turn. Continue cooking another 4 or 5 minutes.until desired doneness. Remove steaks to a platter and keep warm.
Pour off fat from skillet. Add butter, then shallots. Add cognac and carefully ignite it. Add cream and bring to a boil, cook while stirring about 5 minutes. Remove from heat and stir in the mustard. Add salt and pepper to taste. Serve over steaks.