Boomette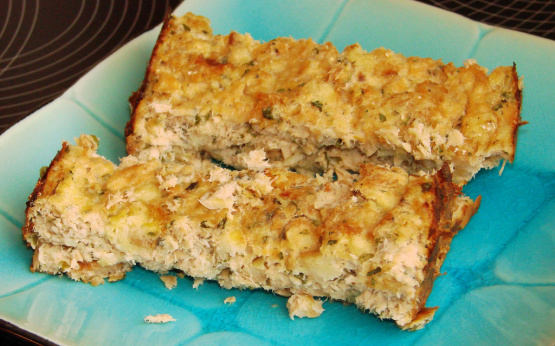 This is how my mom made salmon with the cans of salmon you get on sale. She made tuna with this recipe too.

I was very pleasantly surprised with this dish. My husband loved it, he said it reminded him of seafood "fritters" at the Long Island shore. We had it with a veggie mayo side salad and used some of the spicy, creamy salad topping to dip some of the loaf bites in to. In order to lighten things up some; I used homemade bread crumbs from low cal/low carb. whole wheat bread, seasoned with my friend "Mrs. Dash" - To bind the mix I used egg beaters, my butter was "Smart Balance" and my dry milk was low-fat. This all worked out very well and made me feel a bit less guilty. I have honestly never had anything like this before and never thought I would like canned salmon. I made this for ZWT3 and am loving the new experiences I am discovering!!! Thanks for sharing!
Drain salmon reserving liquid.
Flake.
Add crumbs and egg.
Measure salmon liquid to make 1/2 cup.
Add powdered milk to liquid; mix.
Add rest of ingredients and mix.
Shape into loaf.
Bake 40 minutes at 350°F; let stand 5 minutes.