Stardust Chocolate Pancakes
hylas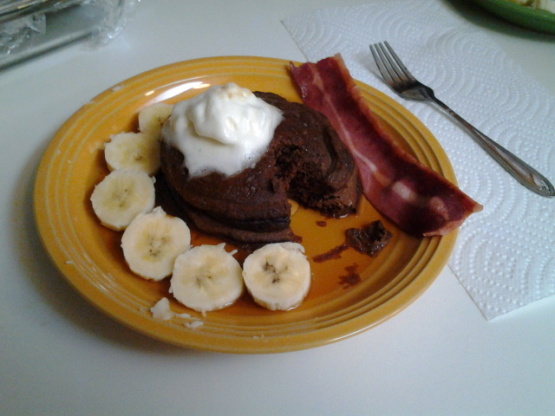 Beautiful and delicious pancakes. Thanks for posting this. My husband and I got to escape for a weekend and had the use of our friends cabin. I made these for a romantic breakfast and it was stunning to look at and scrumptious tasting. I highly recommend this for any romantic occasion. I sprinkled with powdered sugar, topped with some whipped cream and a few sliced strawberries.
In a small bowl, combine milk, egg and butter; whisk until blended.
In another bowl, combine flour, cocoa powder, sugar, baking soda and salt; mix well.
Add milk mixture; whisk just until dry ingredients are moistened.
(Batter will be slightly lumpy.) Heat griddle over medium heat until hot.
(Drops of water will sizzle, then evaporate.) For each pancake, pour scant 1/4 cup batter into griddle.
Cook 1-2 minutes or until batter is set around edges.
Carefully turn over pancake; cook 1-2 minutes or until pancakes are cooked through.
Repeat with remaining batter.
Sprinkle pancakes with powdered sugar; serve warm with desired toppings.
(I use a star shaped mold, placed on grill. You must spray mold with vegetable oil) Try using metal star shaped cookie cutters!