Starbucks Caramel Macchiato Blended - Tastes Great Cold or Hot
eabeler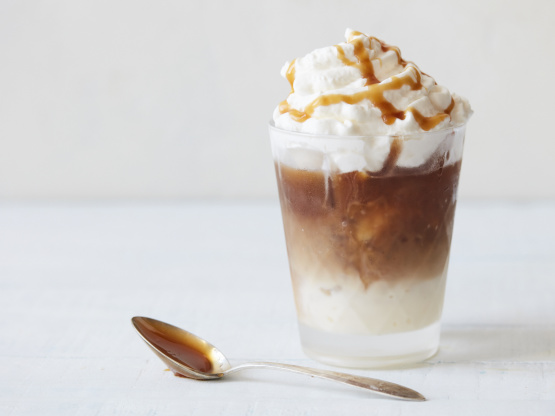 A rich Starbucks espresso and the rich buttery taste of caramel & creamy milk what could be better. I only use Starbucks original whole bean espresso and grind it to a fine espresso powder and brew it up in my espresso machine. I use the double shot holder on my espresso machine and brew a double shot of espresso. (1 shot is 1 oz- this recipe calls for 2 full ounces of Starbucks espresso). I use a single serve blender for a Blended Caramel Macchiato, if you want a hot beverage just use steamed milk.

Top Review by megs_
I am perhaps the biggest Caramel Macchiato lover in the world. I recently moved to a small town from the big city and was so missing Starbucks - because of this drink! SO glad I found your recipe! I actually couldn't get my espresso machine to work with me (first time to try it out, :)) so I brewed Starbucks espresso double strength in my coffee maker. I used about 3/4 cup of that coffee to make this drink, and omitted the half and half and whipped cream. I also used sugar free vanilla syrup. This recipe will help me out a TON! Thank you so much for sharing it!
2

fluid ounces brewed starbucks espresso, use Starbucks Original whole bean Espresso coffee

8

ice cubes

1

cup whole milk

2

tablespoons half-and-half

2

tablespoons torani vanilla syrup

2 -3

tablespoons of a thick buttery rich caramel syrup

4

tablespoons Reddi-wip topping, heavy cream version
Brew your Starbucks double espresso shot first.
Fill a tall glass with ice - leave about 2" from the top of the glass.
Now fill the glass with 1 cup of ice cold whole milk.
Then pour in your 2 tablespoons of half & half or heavy cream.
Now ad the 2 tablespoons of Torani Vanilla syrup into the glass,.
Now ad your 2 fluid ounces of Starbucks brewed espresso shot over the milk.
Now drizzle the 2 tablespoons of thick caramel syrup inside the glass.
Now top with Redi-whip heavy whipped cream & drizzle a little more caramel syrup on the top.