I found a recipe book hidden in my room and wanted to save the recipes.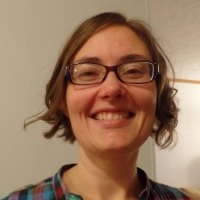 The dough was a bit wet and I had to re-chill halfway through the baking process. The stars spread more than I would have liked resulting in pretty rounded points, especially the longer the dough was out of the refrigerator. The warmer it became the harder it was to transfer the cut-outs to the cookie sheet too, so I have some stars that are not very star shaped at all. I got 37 cookies.
Mix together shortening, sugar, eggs and vanilla/lemon extract.
Mix in a separate bowl, flour, baking powder and salt.
Mix 1 and 2 together.
Cover, chill at least one hour.
Roll and use star-shaped cookie cutters.
Bake 6-8 minutes in preheated 400º oven on ungreased baking sheet.