Chef Oz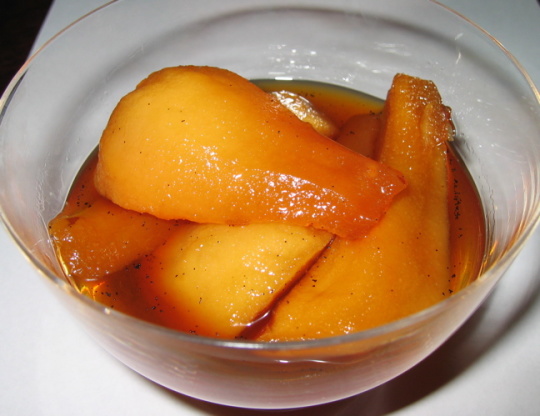 Here is a delicious example of eastern spices used to complement a western dish. Recipe edited to add sugar (which was left out).

This is a fantastic dessert! It goes well with Vanilla Ice Cream.
Combine sugar 2 tablespoons water, star anise, cloves, cinnamon stick and vanilla bean in a heavy large saucepan.
Stir over low heat until sugar dissolves.
Increase heat and boil with out stirring until syrup turns a deep amber color, occasionally brushing down the sides of the pan with a wet pastry brush and swirling pan, about 9 minutes.
Remove from heat add 1 1/4 cups of water (the mixture will bubble vigorously).
Bring to a simmer, stirring until pieces of caramel dissolve.
Add pears, cover and simmer until tender, turning pears once about 5 minutes.
Using a slotted spoon, transfer pears to bowl.
Boil liquid in sauce pan until thick and syrupy, about 5 minutes.
Pour syrup over pears toss gently to coat.
Chill until cold.
Serve cold.