Stacy's Favorite Vegetable Beef Soup
SharonChen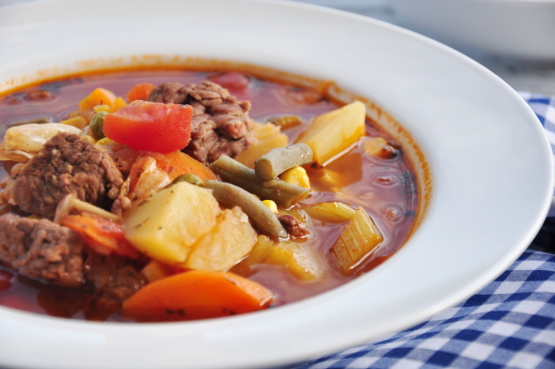 This is a soup that I have concocted under the inspiration of 4 different recipes, and out of the sheer, selfish desire to satisfy my childhood cravings! I took what I liked from each, discarded what I didn't, and added a few what-nots that I craved. My 4 kids have always been leery of vegetable soup, but when they tried this version based on my own particular favorites, it was "4 Thumbs Up!" You can't beat those odds...:)

Top Review by Bobbie
Stacy, You are now one of the brightest stars in the sky --- and your recipes continue to gather lots of stars here on Zaar. When I make veggie soup, I always print off your recipe -- it's amazing. I improvise but its always your basic recipe I start with. Today I added some bok choy, zucchini, squash, sweet potato, and a package of Fordhook lima beans -- in addition to the veggies you list. I doubled all the "liquid" and spice parts of the recipe -- and probably added a bit more water. Now my freezer is plum full of yummy soup. RIP -- and thoughts and prayers to your family. So many of us here are glad that our paths crossed.
Heat vegetable oil in a large stew pot. Add the stew meat and thoroughly brown on all sides. Add red wine and deglaze pot, stirring in all the brown bits on the bottom until the wine is reduced by at least 1/2. Add the chopped onion and minced garlic and saute for about 5 minutes longer.
Dump in all the other ingredients and stir well.
Bring to almost a boil, then cover and reduce the heat to a simmer. Let simmer (almost bubbling), covered with the lid slightly ajar, 1 hour, stirring occasionally, until all vegetables are tender.
Add more salt and pepper to taste, if desired, and discard the bay leaf.