Stacy's Cheesy Chicken Pot Pie
Stacky5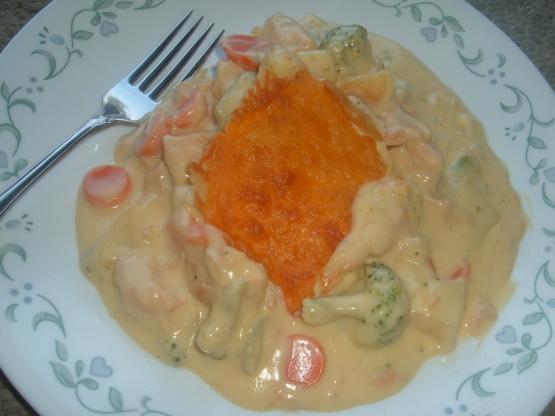 This is a twist on chicken pot pie that I've never seen before on ANY recipe site...Very different and totally awesome! The cream cheese and parmesan cheese added to the filling makes such a tasty difference. This is not your average chicken pot pie! :)

Well I was craving a chicken pot pie, which DH loves so I decided to try Stacy's.Adding cream cheese and parmesan is something I would not have thought of. Besides my mom's recipe this is TOPS with me. If I could find 5 more stars I would add them on. Thanks Sweetpea !!
2

(10 1/4 ounce) cans cream of chicken soup

1

cup milk

1

cup chopped onion

2

(3 ounce) packages cream cheese
1⁄2 cup parmesan cheese, grated
1⁄2 teaspoon salt

3

cups cubed cooked chicken

1

(16 ounce) package california-blend frozen vegetables, slightly thawed (broccoli, cauliflower & carrots)

2

potatoes, peeled and cubed & microwaved for 1 minute to slightly cook

1

cup shredded mild cheddar cheese

1

(2 count) package Pillsbury ready made pie dough (in refrigerated section, comes in a pack of 2)
In large saucepan, combine soup, milk, onion, cream cheese, parmesan cheese and salt. Cook on low and stir until cheeses are melted and creamy. Add chicken and vegetables and continue to cook on medium/low for 15 minutes more. Pour into ungreased 2 quart baking dish (or 13 x 9 inch glass pan).
Place raw pie crusts on top of mixture (you may need to cut it and "fit it" to the shape of your 2 quart baking dish or the 13 x 9 inch glass pan.) Sprinkle cheddar cheese on top.
Bake, uncovered @ 375 degrees for 20-25 minutes or until golden brown. Let sit for about 5-10 minutes to set.
YUM!