Nimz1466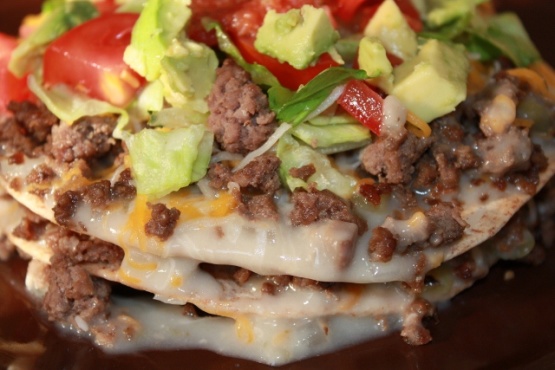 This is my first time posting a recipe, so I am making it one of my favorites. My cousin's wife made this for me years ago. I had to make it again by memory. It is one of my favorite comfort foods. It is reasonably simple and really really yummy! You can add whatever else you want to the sauce, be creative. Sometimes I like to add some jalapenos and cheese to the sauce.

I was very surprised how much this tasted like actual "Taco" as it really didn't have any of the spices included with what I refer to Taco Seasoning. I just had a few problems with the recipe as written. The ingredients didn't follow any kind of order and all the "optional" ingredients were very vital to the overall recipe, in my opinion. The sauce makes the crisp tortillas get soggy pretty quick which was a downfall in our opinion. I did bake them as suggested. Thanks for a new recipe to try. Made for Spring 2012 PAC
Brown the hamburger. Season lightly with garlic and seasoning salt. Drain fat. In small sauce pan mix soup, green chiles, chopped onions and water. Bring to a low boil, stirring occasionally. While browning meat, heat oil and fry tortillas to a light crisp. For a healthier option, you may bake the tortillas for 10-15 minutes at 350. Chop optional vegetables.
After sauce, meat and tortillas are prepared, make your Stacker Taco. Start with a crisp corn tortilla, pour some sauce on it, add meat, then cheese (and veggies if you want). Repeat until you've stacked your taco as high as you want, top with lettuce, tomatoes, onions, avacados and sour cream if you desire.