St. Patty's Day Corned Beef
Pam-I-Am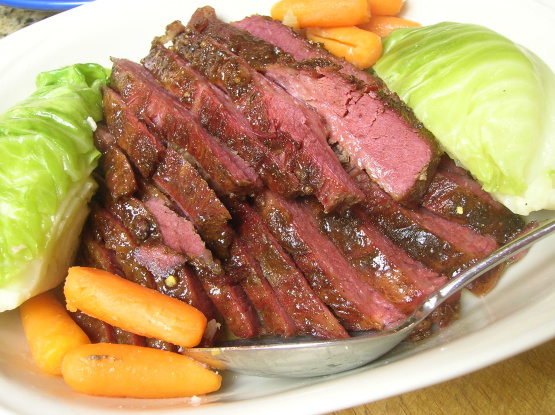 This is our traditional St. Patrick's Day meal. I have served this sweet, spiced version of corned beef ever since I first tried it years ago. Not the healthiest meal, but worth it for just that one special holiday each year. I serve this with soda bread, mashed parsnips, and boiled cabbage. This serves 4-6. If you prefer, you can sub mini red skinned potatoes and baby carrots so you don't need to do any cutting, just use more of them. Adapted from a Killian's recipe.

I am somewhat embarassed to say that I have never in my life eaten corned beef. This is what I made for our St. Patrick's Day family get-together and boy, have I been missing out. In preparation, I sent my husband out to get the red Irish ale. You are right, that is a very key ingredient. I followed your directions to the letter and I made extra spice rub just for the carrots and potatoes. That is definitely the way to go. The meat was so tender, you could cut it with a fork. The red color was beautiful and impressive. The spice rub had a delicious sweet and spicy flavor. I served it with cabbage and soda bread. So, this is the first St. Patrick's Day that I have made actual Irish cuisine. We loved it and thanks for your most excellent recipe.
BE SURE TO DISCARD ANY BRINING LIQUID THAT COMES WITH THE MEAT- INCLUDING THE SPICE PACKET!
Trim all visible fat from the meat- this may take some time (I use kitchen shears to ease this process).
Place meat in a large Dutch oven and cover with water.
Add ale, bay leaves, cinnamon stick, cloves, a light shake of crushed red pepper flakes, peppercorns, garlic, and the onion chunks to the pot.
Bring to a boil, then lower heat just a bit and boil very gently, with lid ajar, for 4-5 hours or until meat is so tender that is breaks apart when you pull at it with a fork.
Keep checking the pot from time to time to prevent boilovers- you will need to keep lowering the heat throughout the cooking process as the liquid reduces, especially in the first hour (It should still be hot enough to still gently boil, but not spilling over the sides of the pot).
Meat should be very, very fork tender when ready for the next cooking stage and will have shrunk considerably from its original size.
In the last half hour or so of cooking time, boil the carrots and potatoes in a separate pot of water to cover and cook until fork tender; Drain vegetables and set in a small bowl.
Remove meat and onion pieces from boiling liquid (discard that liquid) and set into a large roasting pan (I usually pour the liquid through a strainer to catch the onion pieces).
Surround meat with boiled carrots, potatoes, and onion pieces.
Combine dry rub ingredients in a small bowl and rub all over the meat surface and sprinkle any remaining rub over the vegetables.
If needed, make up extra dry rub to coat the vegetables (we often do this).
Bake, uncovered, in a preheated 325°F oven for about 20 minutes until the top of the meat begins to look shiny.
Remove from oven and wait about 10 minutes before slicing into thin slices along the grain of the meat.
Note: The meat will take on a very bright red hue when sliced- this is perfectly normal and is a result of both the brining nature of corned beef and the red ale enhances this color.
I often make an extra pan of vegetables sprinkled with a full batch of dry rub and include not only carrots and potatoes, but parsnips as well (treat parsnips the same as you would a carrot.) I have successfully half-doubled this recipe when only larger corned beef cuts were available- larger cuts will take longer to boil but the roughly the same time to bake because the baking stage is merely to cook the dry rub into a glaze.
PLEASE NOTE: If you substitute regular brown ale, then you will not get the same result in both color and flavor (You may substitute another Irish ale or even an Irish lager if you must, but we really prefer the red ale).