rosie316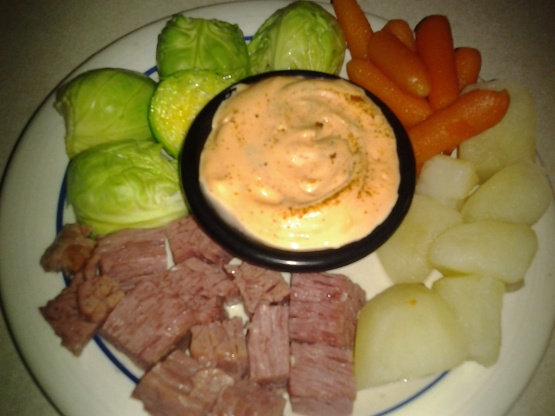 I thought this seemed a little different from the traditional St.Patrick's Day appetizer or first course. Recipe source: Bon Appetit

I made somewhat of a traditional "Corned Beef dinner" last night. I used the left over veggies and also some of the beef (that I cubed) to use as "dippers" for this fondue (as a midnight snack for for hubby and I). It was quite tasty, although I used "medium cheddar" cheese (that I had handy) and I did not have the cauliflower or apples (but I used the baby carrots and cubed beef along with the brussels and potatoes)... Will definitely try again, if I could ever find an "Irish Cheddar" in my little town. Heck, I will try it again, even if I can't!. Thanks for a very nice recipe that I can use to get rid of my regular corned beef dinner leftovers.
Made for "PRMR - Spring 2013" tag game.
-Rosie

EDITED: I just realized... I could make a regular St. Patty's corned beef dinner, the day BEFORE the family and friends stop by to drink and eat. I can easily use this fondue platter as a "self serve buffet"! No more setting the table with dishes that need to be washed after the party, and no more looking for enough chairs at the dining table for everyone! Ha Ha Ha! (cocktail picks and self serve St. Patty's dinner it shall be).
I figure that I could do the "self serve fondue buffet" for Easter also. Using pre-cooked ham, asparagus spears, etc... and of course, this 'cheese fondue'. Thanks again for a great recipe.
Steam vegetables until tender (15 minutes) and then arrange vegetables and apples around the edge of a large platter.
Meanwhile prepare fondue; toss cheese and flour into a large bowl.
Bring the stout, apple juice and mustard to a simmer in a saucepan over medium heat. Gradually add cheese mixture to pan; stirring constantly until cheese is melted and smooth (you may need to thin with some additional stout). Season with salt and pepper, if desired.
Transfer fondue to bowl or fondue pot and place in center of platter with vegetables.