St. Louis Barbecued Pork Steaks
jenne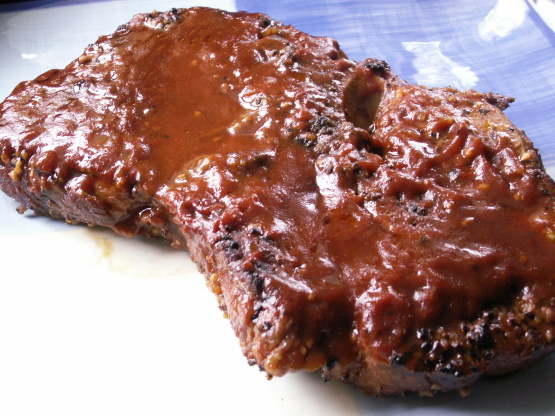 Grilling, then braising makes these barbecued pork steaks very tender. Economical pork shoulder steaks have a lot of flavor, but can be tough. Here's a popular St. Louis way to cook them until they're fork tender, a recipe I found at a web blog. You can also prepare these in the oven. For the grill you will need an aluminum roasting pan. I consider this more a method than a "recipe", so match the seasonings to your tastes. And, the thicker the steaks, the longer they need to cook.

This is the only way I make my pork steaks now. We love them! Definately a keeper. Thanks for posting!
4 -6

pork shoulder steaks
montreal grill seasoning (I use McCormick's)
kosher salt & freshly ground black pepper
Emeril's Original Essence
barbecue sauce (I use Super Smoker's Championship Sauce)
light beer
Season the steaks on all sides with the grill seasoning, garlic powder, salt and pepper, and Essence. Grill the steaks over medium high heat until done, about 15-20 minutes, flipping once halfway through.
Reduce heat to medium. Place steaks in a large aluminum roasting pan. To the pan add equal amounts of barbecue sauce and beer until the steaks are just about covered. Wrap the top of the pan with aluminum foil, place on the grill and close the grill cover.
Cook for at least 1 1/2 - 2 hours, checking periodically to make sure the liquid hasn't evaporated. If it has, add more beer and barbecue sauce. When the steaks are tender, remove the pan from the grill and carefully plate the hot steaks. Serve with your favorite barbecue fixin's.
For oven preparation, follow the preparation instructions above, then broil the steaks 6" from the heat source, turning once, until cooked through. Place steaks in a 2" deep, foil-lined baking pan, adding barbecue sauce and beer to almost cover. Cover tightly with foil and finish the pork steaks in a 250°F oven for 2 - 3 hours or until tender.