St. George Cinnamon Rolls
Bayhill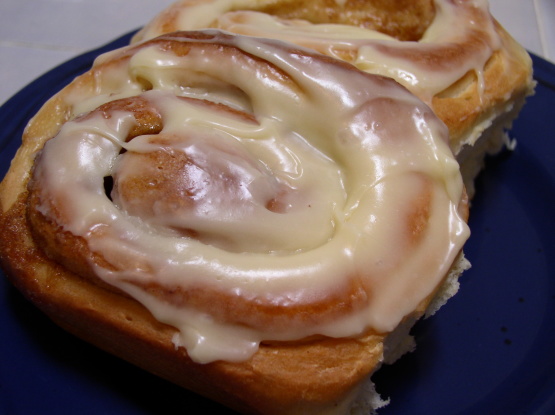 This recipe came from my wedding shower recipe exchange and it may be a little hard but it is worth it!
These rolls were delicious. The reason I am giving this recipe 4*'s is because some of the ingredient amounts and recipe directions were too vague. I felt that if someone new to making cinnamon rolls tried to make these rolls, they might becomed confused. Also, I think that the extra 3 TBS. of water is unnecessary (the dough was batter-like and impossible to knead). I ended up using approx. 1/4 c. more flour to get the dough to kneading consistency. Next time, I would eliminate the 3 TBS. water and add any additional water, if needed, to make the dough easy to knead. I will include the steps that I did, in hopes that it might help someone else when making this recipe: After kneading dough and allowing it to raise, on a floured surface, roll out the dough into a 12"x18" rectangle. Spread 2 TBS. softened butter or margarine over the rectangle. In a small bowl, mix together 1/4 cup brown sugar, 1/4 cup granulated sugar, and 1 tsp. cinnamon. Sprinkle this mixture over the buttered dough. Roll up dough, starting at the long end, and seal the seam by pinching the dough together. Cut the dough into 1-1/2" slices (there should be 12 slices), and put the rolls, cut side down, into a greased 9x13" pan. Raise and bake as directed. After baking, I let the rolls cool, in the pan, for 5 mins. on a cooling rack. I frosted the warm rolls with "half" a recipe of cream cheese frosting from my recipe #142070 recipe. The end result was some very yummy rolls that my family loved.
Mix first four ingredients and let set for 15 minutes or longer in a bowl.
Add the egg, salt, and flour.
Knead for 1 minutes and let rise for 20 minutes.
Roll out, spread with butter, sprinkle with cinnamon, brown sugar, and white sugar.
Roll up and slice about 1 1/2 inches thick.
Place in greased pan.
Let raise for 15 minutes.
Bake for 10-15 minutes at 375 degrees.
Frost with favorite buttercream recipe or cream cheese frosting.