St. Croix Mango Rum Punch
alligirl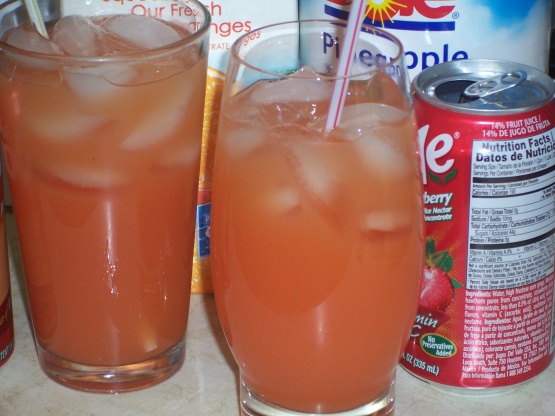 We concocted this rum punch after returning from our honeymoon in St. Croix. We fell in love with Cruzan mango rum while there, so we returned toting several bottles of it. This punch tastes exactly like the punch served at the resort where we stayed.

This is the BEST rum punch I have ever had. Quadrupled the recipe for a pool party and had some leftover, so I froze it. The next day I pulled it out and it was nice and slushy, so it was even better - an adult sno cone!
1

(12 ounce) can strawberry nectar

1

(12 ounce) can mango nectar

2

(6 ounce) cans pineapple juice

2

cups orange juice

1

dash grenadine
1 1⁄2 ounces dark rum (1 shot)
1 1⁄2 ounces light rum (1 shot)
1 1⁄2 ounces coconut rum (1 shot)
1 1⁄2 ounces mango rum (1 shot)
3⁄4 ounce triple sec (1/2 shot)
Mix the juices and nectars in a pitcher.
Stir in enough grenadine to make it a pretty salmon pink color.
Add two spoonfuls of the maraschino cherry juice and a few cherries.
Add the liquor.
Stir it thoroughly!
Taste the punch to check the strength. You may want to add more alcohol to make it a little stronger. If you do, try to keep the proportions of the liquors the same.
Just a note: Nectar is sold in individual cans. It's usually either with the juices or in the "ethnic food" section with the Latino items. I've used both Kerns and Jumex and they're both good.
If you don't have mango rum, substitute another 1/2 shot of triple sec (to make a whole shot) and another 1/2 shot of light rum. However, I recommend looking for the mango--that's what makes this punch a little unique. Check the airplane bottles--they might have it there if there are no bigger bottles. Both Cruzan and Captain Morgan make the flavor.