St. Brigids Oaten Bread from Ireland
Annacia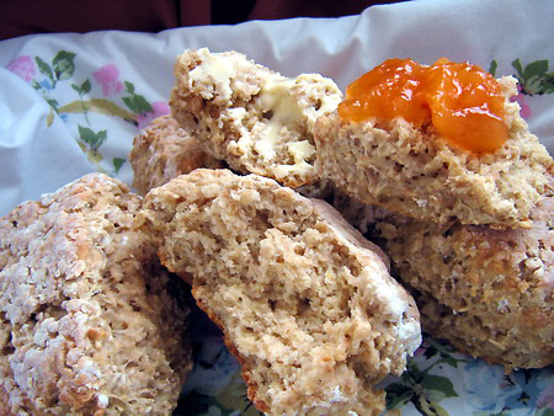 These chewy bread-cakes have been fed to children in Ireland for years, in the belief that vigorous chewing would strengthen their young jaws. The children of today like them because they are fun to eat. And because they are low in fat and high in fiber, they are definitely healthful. The loaf is cut in quarters, or "farls" before it is baked. This was sent to me from a friend in Belfast. I doubt that you can get much more Irish than that! *New NOTE -2/27/08* The recipe now has new instructions from Ireland and they make the world of difference! I have added my pix of the bread made using the new method.

Top Review by najwa
This is fantastic! I love it! I made a mistake the night before and used 1.75 c oats and 2 c buttermilk. The next day I just followed the recipe and added 1/4 c sugar. I baked it for 30 mins and it came out wonderfully! The dough was sticky but I didn't add extra flour. Thanks! This is a wonderful healthy recipe and is going into my favorites cookbook!
Heat oven to 425 degrees.
Grease baking sheet.
Combine flour, sugar, baking powder, baking soda and salt in bowl and mix.
Add butter bits and cut in with knife until mixture is crumbly.
Add oats and toss to combine.
In other bowl beat egg with buttermilk.
Make a well in the dry ingredients.
Pour in the egg mixture and mix with a fork until crumbs hold together.
Make dough into ball and transfer to floured surface.
Knead 20-25 times.
Add flour if sticky.
Pat dough into 8-inch round and transfer to baking sheet.
Score a deep cross into the bread but do not cut it through.
Bake 23-28 minutes till brown and a tester comes out clean (may take less time, so keep an eye on it).