alligirl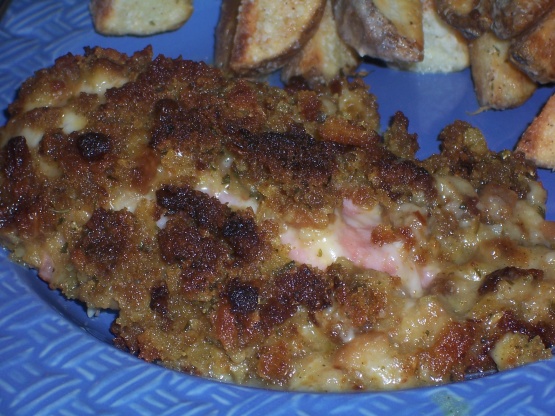 I found this in a hospital cookbook. Very easy and impressive when served. Good too!

This was certainly easy enough, but some directions on cooking time would have helped immensely. I used 3 breasts, and started in a small glass baking dish; after starting to add the stuffing, I realized it would need to be in a bigger dish, so I used a 2 qt. oblong (12 X 8.5 inch) dish. I followed layering directions, and poured butter over stuffing. I baked @ 400 degrees for approx. 45 minutes. That temperature may have been too high, as my stuffing was dark. The taste was just OK, for me.
Layer in baking dish: chicken, then ham.
then cheese.
Pour soup, diluted with wine, over all.
Top with stuffing mix and drizzle with melted butter.