Boomette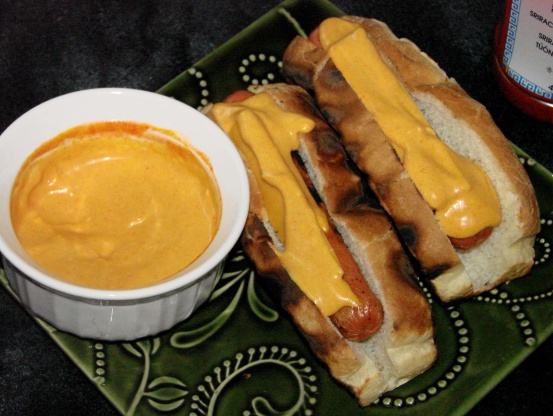 I've recently discovered srircha hot chili sauce. It's the red sauce with the green twisty cap and rooster on the lable in the Asian aisle of your grocer. Probably the sauce that you've noticed for years and years and always thought naaaaawwww. Well let me tell you, I, too, never thought to buy it until ZWT #6 Asian Tag and it's not too late for you, either. It's got a sweet heat that can easily become your secret weapon. For another recipe for srircha mayo, see Crispy Fish or Chicken Sandwich With Spicy Mayonnaise.

How have I not reviewed this yet? Have made it about half a dozen times and love it. Great on sandwiches, hot dogs, hamburgers, making it now to go with salmon patties for dinner. I am a Sriracha junky, so love most anything made out of it. I usually go with a 1/4 cup light mayo and a heaping TBSP of mustard and hot sauce to make a smaller batch at a time as it is just me and hubby that like the hot stuff. Thanks for posting, in 'my must have in the fridge' recipe file!
In a bowl, whisk together mayonnaise, mustard, and sriracha.
Store in an air-tight container for up to a month.
Use as a condiment on burgers, hot dogs, fries, sandwiches, dipping sauce, chips, chicken, fish (fried or baked), etc. Easily doubles.