zoey2121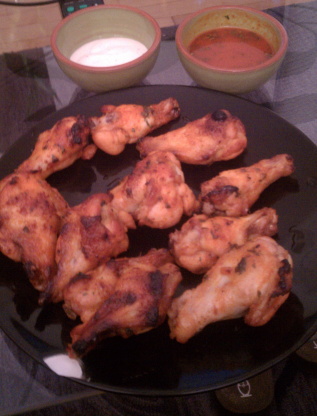 Layers of flavors...sweet on front end then comes the kick in the rear. Good with saffron rice. (Golden Syrup is a South African cane syrup. Try Delta or Lyle's brand.) My husband loves these. See below grill method. Don't forget the blue cheese dressing and a beer. I don't like beer..DH said to say that.

I did let mine marinate for 5 hours, but then weather didn't cooperate and the rain came in! So I didn't grill. I tried the oven instructions. Halfway through the cooking time, I peeked in and saw my wings laying in fat, (using the baking sheet covered in foil), so I grabbed them out of the oven and placed them on a broiler rack so the fat could drip through and so they would crisp up and not be slimey. I just can't eat slimey wings. Of course, the grilling method would have eliminated this problem all together, so I can't fault the recipe instructions for grilling! I had to add cooking time to crisp up the wings, and they really didn't crisp up....I was afraid they'd be dry if I continued to cook them.. The sauce is spectacular! Loved the hint of sweetness with the hit of spice. The marinade added just the perfect touch of garlic for the chicken. Thanks for sharing!
Wash wings and using kitchen shears, trim fatty wing 'flaps'; discard sheared fat . Place wings in a zip lock bag; set aside.
Together mix ground coriander, Kosher salt, olive oil, minced garlic and lemon or orange juice. Place marinade mixture together with prepared wings in plastic bag. Seal, squeeze out air then squish around to disperse marinade. Refrigerate at least 4 hours or overnight.
Preheat oven 400 degrees. Prepare baking sheet by lining with aluminum foil and grease with oil. Remove wings from marinade and dry with paper toweling. It's important to have them as dry as possible. Place on prepared baking sheet then sprinkle with salt to taste. Place in oven and bake 35 minutes or until golden.
In the meantime, mix together the sriracha sauce ingredients: melted butter, sriracha, golden syrup, zest, and cilantro; set aside.
When wings are ready, remove baking sheet from oven and brush over each wing generously with the sriracha sauce. Once finished brush once again. Return pan to oven and bake an additional 5 minutes to set the glaze. Reserve remaining sauce.
Serve with remaining sauce for dipping, blue cheese dressing and celery sticks.
For Grilling:.
Use a 30-20-10 method. On indirect heat cook 30 minutes, flip the chicken. Cook an additional 20 minutes more. Remove the wings from the grill and toss into sauce. Return back to the grill and cook 10 more minutes until crisp.