KateL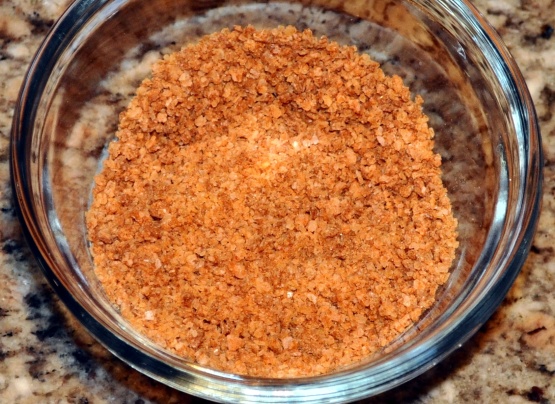 This is good on popcorn, hard boiled eggs, fried eggs, grilled corn, french fries, avocado, edamame, steak, anything you would put hot sauce on. If you feel adventurous, you might even sprinkle it on chocolate truffles! It's also good to rim a glass for V8 juice or other drinks.Cooking time is drying time. From the Sriracha Cookbook by Randy Clemens. The original recipe called for 2 cups salt and 20 tsp. sriracha and 4-6 tsp. granulated garlic(actually I don't know exactly how much garlic is added. I have made an educated guess). This makes good gifts to family and friends who love sriracha sauce.

Top Review by KateL
Wow! I had Sriracha sauce which I had been afraid to open. This recipe changed my mind. I made half a batch, 1/4 cup, which fit my toaster oven broiler pan quite nicely. I used it instead of Mrs. Dash Fiery Blend when I cooked freshly caught rockfish (striped bass). Although I used a small amount (don't laugh, I cook my fish "poached" in butter: I spray my Corning casserole dish with Pam, then sprinkle a thin coating of Mrs. Dash Garlic & Herb, then sprinkle a smattering of Mrs. Dash Fiery Blend only this time I used Sriracha Garlic Salt, lay in the rinsed and patted dry fish filet, then sprinkle a lesser amount of Mrs. Dash Garlic & Herb and a lesser amount of Mrs. Dash Fiery Blend replaced by Sriracha Garlic Salt, and then I load on a thick layer of shaved butter or I Can't Believe It's Not Butter before covering and baking at 350 for 15 minutes. Depending on the size of the filet, it may be done in 15 minutes or take 30+ minutes; the fish is done when the butter starts bubbling.) Even with this small amount, we noticed the difference, and loved the sweet taste it gave the rockfish. I plan to make up batches to give our fiery-spice-loving children who may not have tried Sriracha sauce on their own. Can't wait to use this again! Made for Please Review My Recipe tag game.
1⁄2 cup kosher salt

5

teaspoons sriracha sauce (also called rooster sauce)

1 -2

teaspoon granulated garlic (more or less to taste)
Line a baking sheet with parchment paper.
Mix the salt, sriracha sauce and granulated garlic in a bowl.
Spread the mixture out thinly on a baking sheet and allow it to dry slowly, uncovered for a day or two, stirring once or twice during the process. It can then be stored for future use in an airtight container at room temperature.
Quicker Method:.
Preheat oven to 350*F. Spread the mixture out thinly on a baking sheet lined with parchment paper.
Put the baking sheet in the oven and turn off the heat immediately. Allow the salt to sit in the residual heat until completely dry, usually within 2-3 hours(time will vary depending on different factors). If mixture clumps just put in a plastic bag and run a rolling pin or round glass jar over to break up clumps.