lazyme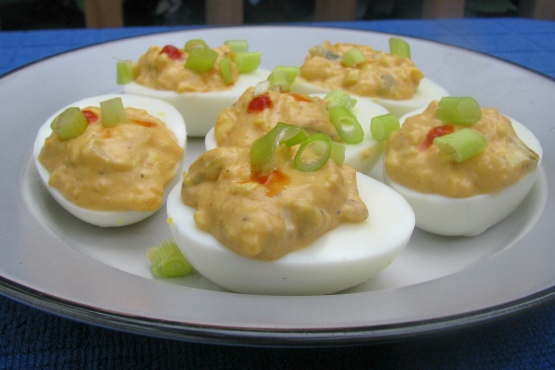 Here I go again...another sriracha hot chile sauce recipe. I can't help myself; I'm sooooooooo hooked. Overlap cooking the eggs with the prepping of the remaining ingredients and they're done in no time. Oh, this really puts the devil in deviled eggs.

These really are deviled, all right! They are so spicy good. I did use the sweet pickle; it made a nice contrast to the heat of the sriracha. I accidentally added a little extra garlic powder, but I think they tasted even better that way. Thanks for posting!
Peel eggs and cut in-half lengthwise.
Scoop yolks into a bowl and mash with a fork. Add mayonnaise, mustard, sriracha, minced onion, garlic powder and sweet pickle. Stir to combine. Season to taste with salt and pepper.
Use a spoon or piping bag to fill each half of an egg with mixture. Squirt a dab of sriracha sauce on top of each egg, sprinkle with green onion and serve.