Rita1652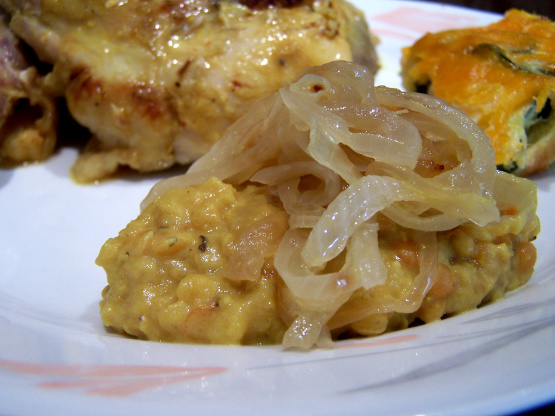 Different from the usual Indian Dhals, this dish uses coconut milk to add flavour. use this to accompany a Sri Lankan meat curry. You can't go wrong. Rice and Dahl are the two big fillers in Sri Lankan food.
In a heavy pan heat the oil and fry the onion till golden brown.
Put half of the onions aside and save for garnish.
Add the chillies, shrimp paste, and turmeric and cook for 2 minutes.
Add the lentils, curry leaves, coconut milk, stock, cinnamon stick and lemon grass. Stir to mix all the ingredients together.
Bring to the boil, reduce the heat and simmer for 40 mins, uncovered.
Discard the cinnamon stick and lemon grass stalk.
Garnish with the remaining onions and serve.