Squirt-Of-Orange Pork Chops
gailanng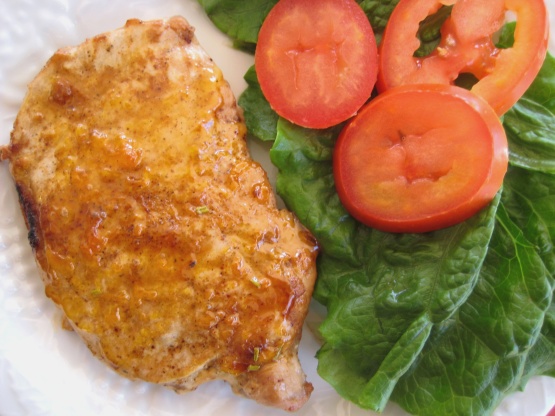 A splash of juice and an orange marmalade brush-on gives these garlicky chops a burst of flavor. For an extra-special treat, use blood oranges in place of the regular ones.
Cut orange in half. Cut one half of the orange into 4 wedges; set wedges aside. Squeeze juice from remaining orange half. Remove 1 Tablespoon of the juice and brush on both sides of each chop. Sprinkle chops with garlic-pepper seasoning and salt. In a small bowl combine remaining orange juice, orange marmalade, and the chopped rosemary; set aside.
Preheat broiler. Place chops on unheated rack of a broiler pan. Broil 3 to 4 inches from the heat for 5 to 6 minutes. Turn and cook for an addition 5 to 6 minutes, brushing with orange marmalade mixture for the last 2 to 3 minutes of broiling. Chops are done when pork juices run clear or a meat thermometer inserted into center of chop registers 160 degrees.
Serve orange wedges with chops. If desired, garnish with rosemary sprig. If desired, squeeze juice from orange wedges over chops.