Nic2371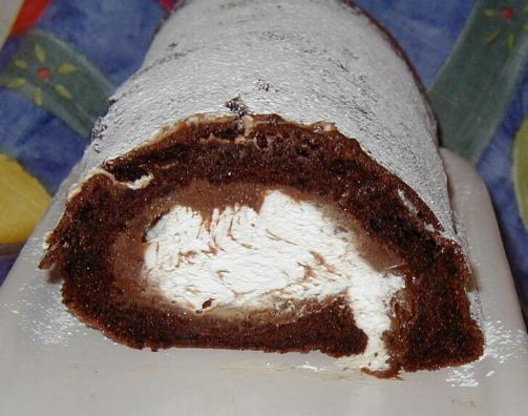 If you want a dessert to impress, then this recipe is for you. This is a family favourite and is requested for celebrations. The cake has no flour in it, so it's very light, and indulgent with its chocolate mousse and whipped cream filling. The recipe comes from Delia Smith, and I have tweaked it slightly.

Oh boys. I had been wanting to try this out for years; then I had the right people over for dinner three days ago. I made it following exactly Delia's recipe, apart from the tin dimensions: Delia asked for a 28x19 cm tin, it looked much too small to me and I used a 32x24 tin which I think made it easier to roll, and the sponge was thick enough in the end. Real fun to make. My guests went crazy and the day after I ate up the one remaining slice with guilty happiness. It's very light in texture but certainly fattening with the chocolate and the cream and all those eggs but oh, boys, I've never had a chocolate cake this good. I'm thinking who else I can invite for dinner SOON cos I need to make it again.
Line a tin measuring 9"x13" with baking parchment.
To make the mousse filling; In a bowl, whip the heavy cream until just going stiff.
Break the chocolate into another bowl, place the bowl over a saucepan of simmering water and leave until melted.
Remove from the heat and beat in the egg yolks, one at a time, followed by the cointreau, if using.
Whisk the egg whites until stiff and fold them into the chocolate mixture, now fold in about 3 tablespoons of the whipped cream; Cover the bowl and chill for about an hour.
To make the cake, preheat the oven to 350º F, place the egg yolks into a large bowl and whisk until they start to thicken, add the sugar and continue to whisk until the mixture thickens, but don't let it get over thick.
Mix in the cocoa powder.
Using a clean whisk and bowl, beat the egg whites to the soft peak stage.
Carefully fold the egg whites into the chocolate mixture, pour the mixture into the prepared tin, making sure you spread it evenly to the edges of the tin.
Bake for 20-25 minutes until springy and firm to the touch; (The cake may shrink as it cools but that is normal).
When the cake is cold, turn out onto a rectangular piece of baking parchment, that has been liberally dusted with powdered (icing) sugar.
Peel off the parchment paper and using a spatula spread the chocolate mousse all over the cake, followed by the rest of the whipped cream.
Gently roll up the cake lengthwise, to make a roll.
Dust with more powdered sugar if needed.
Note that the cake will crack during rolling but that is normal and looks attractive.