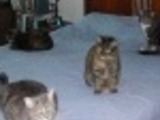 Almost too simple to post, but really yummy. Super easy to make. Broiling (or grilling) these and then squashing them to release their juices make them taste sweet and luxurious. From a food article in the Sunday New York Times, by Amanda Hesser. Her friend taught her how to do this.
Directions
Heat the broiler or grill. Set the cooking rack 3 inches from the heat.
Place the tomatoes on a rimmed baking pan. Broil until they soften and the skins start to blister and split, about 2 minutes. Using tongs, flip the tomatoes and broil until blistered but not totally soft, 2 minutes more.
Transfer the tomatoes to a serving dish and lightly squash with a fork so some of the juices run out. (Be careful to avoid splattering.) Sprinkle with oil, salt, pepper and chili and fold gently to combine. Serve over toasted country bread that has been rubbed with a garlic clove.
Most Helpful
Easy, tasty and a fabulous supper dish! I used cherry tomatoes and my own home-made crusty bread toasted. I did not add garlic or chilli, as the tomatoes were so sweet - but I did add sea salt and black pepper. Made for PAC Autumn 2007 - and very much enjoyed thanks! FT:-)

excellent; easy and delicious. followed recipe exactly. the taste is so simple but very intense. i have no doubt that the summer tomatoes are best suited for this recipe but i bet even off season tomatoes could pass on this. this made a meal in itself for me with a small side salad of italian greens, diced onion and shaved italian cheese on top with a balsamic dressing. thanks for sharing, and will make this again and again.