Squashed Squash ( Hubbard or Butternut )
Bergy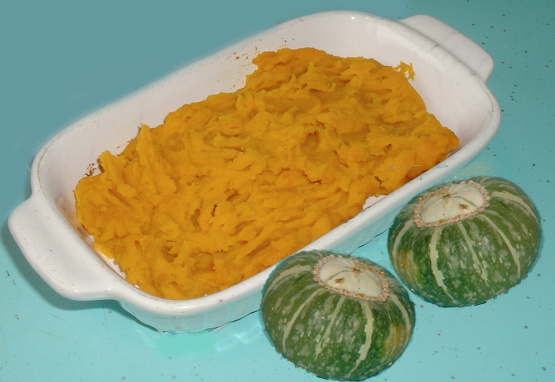 A friend phoned me this evening, asking how to do squash (she hasn't been cooking at home for long; she's always been a takeout kind of gal). So, here is the method I use, for everyone who wondered how but were afraid to ask. Go for it -- it's easy and delicious!

This microwave method is the worst way to try to cook butternut squash. I pierced, zapped for 8 min & then cut open. It was cooked in some spots but very raw in the rest.(most) I scooped out the seeds,& the cooked part (to save)& re-zapped for another 10 min. Again, the same problem. Cooked in some spots but not in others. Re-zapped another 5 min (after scooping out the "cooked". Still had some raw spots. I finally gave up & threw out the raw. This was taking far more time than the 8 min. I expected. I cannot blame my microwave. It's a GE Atvantium. I tried again with another squash. This time I set the initial time for 20 min. Again same problem , gave up & threw out the raw portions. I am so dissapointed! I was so mad that I did not go to step 2. I took what I had & added brown sugar & butter to taste & whipped with an electric mixer. Turned out great but I will NEVER microwave squash again. Too time consuming & too much waste
1⁄2 lb small winter squash, such as hubbard or butternut

2

tablespoons unsalted butter, room temperature

1

pinch freshly grated nutmeg
salt and pepper
Pierce the squash in several spots with a fork or skewer.
Place on a microwave-safe plate and place in the microwave; cook on High until squash is soft, about 8 minutes.
Alternatively, you can do this in the oven: poke it as above, and roast at 400F for about 45 minutes.
Cut cooked squash in half, scoop out and discard seeds, then scoop all the flesh into a mixing bowl.
Add the butter and nutmeg, and mash well.
Taste; add salt and pepper if desired; serve.
A wee bit of cream can also be added when mashing, if you're feeling decadent.