Squash With Apples & Cranberries
Bergy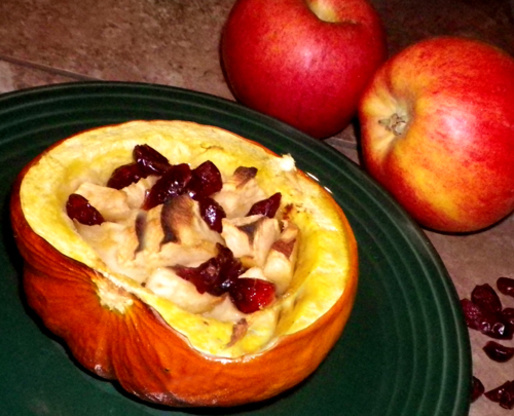 Butternut or acorn squash are great for this recipe. I searched Zaar for a similar recipe but could not find one so decided to post this one. This is a tasty and attractive way to serve squash. Especially lovely on your holiday table. If you wish peel the squash and cut it into bite size pieces, place all the ingredients into a casserole dish, mix well, cover casserole & bake at 375 for apprx 1 hour

This was the star of Sunday dinner, delicious! I made it into a casserole and used a butternut squash, cut back on the sugar to 1 table spoon of Splenda brown mix and followed the recipe for the rest of it. turned out sooo delicious!! Thanks for posting Bergy!
Cut a small slice from the bottom of each cleaned Squash half (this allows the squash to sit level) and place, cavity side up, in an oven proof baking dish.
Mix together the butter, cinnamon & nutmeg and sugar.
Place 1 tbsp of the mixture in the cavity of each squash half.
Distibute the cranberries between the 4 halves on top of the butter.
Add the apples on top of the cranberries.
Preheat oven to 375°F.
Cover the squash with foil and bake for apprx 1 hour, remove foil and check that they are tender
Bake uncovered for 15 minutes.
Remove from oven and gently mix the cranberries & apples so you see both the apple & the cranberries - serve.