Squash Soup With Scallops
Rita1652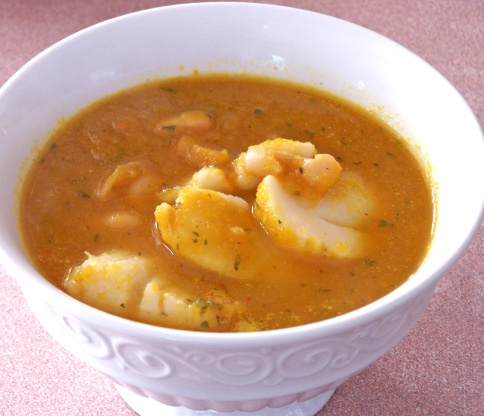 Squash soup is always good but the scallops take it to another level. Nice for a special holiday dinner or company any time.

Sorry we were disappointed with this soup. The butternut just seemed to raw. And the parsley was a bit overpowering. I used a butternut that was under 2 pounds, I would have like if it was first cooked or even roasted to bring out the sweetness. Maybe even sauteing all the veggies first cooking in the broth then blending would have been good. The squash just seemed to come out bitter and overpower an expensive item the scallops. Maybe the spring is the right time of the year. Making squash is more bitter. Sorry when I grow it garden fresh I`ll give it an other try.
Cut squash in half, seed, peeled and dice.
Place squash, onions, garlic, rosemary and red pepper into bowl of food processor and puree.
Heat a soup pot over medium heat and add 1/2 tablespoon of the oil. Add the squash mixture and cook, stirring, for 5 minutes. Add broth and beans
Add salt and pepper to taste.
Bring to a boil then reduce heat and simmer for 15 minutes.
Cut scallops in half horizontally.
Pat dry, season with salt and pepper to taste.
Heat a large skillet over medium-high heat adding the remaining tablespoon of oil.
Add scallops, cook for 1 minute.
Turn, cook for 1 minute more, or until opaque.
Transfer scallops to side dish.
Ladle the squash soup into large bowls. Divide the scallops among the bowls and sprinkle with parsley.