Prep 15 mins
Cook 40 mins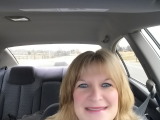 This recipe is a favorite anywhere I take it. It's so good. My mom has been making this for years. I sometimes use only 1 egg and it makes the casserole a little more moist.
Directions
Combine soup, sour cream and eggs.
Fold into squash and onion.
Mix well.
Melt butter and pour over stuffing mix.
Line bottom of 9x13-inch Pyrex bowl with 1/2 of stuffing mix.
Pour squash mix in bowl and top with other 1/2 of stuffing mix.
Bake at 350° for 30 to 40 minutes.
Turn oven off and sprinkle with grated American cheese and leave in oven to melt.
Reviews
Most Helpful
I'm sorry I really didn't care for it that much. Nothing wrong with the taste just wasn't my kind of taste I guess. Although I did like the stuffing added to the bottom and top, that made it more tasty. Glad I tried it though and I would recommend other people to try it.

This was delicious! The only thing I did differently was used sharp cheddar cheese instead of American. I'll be making this again for sure.
So not a squash fan, but my husband wanted some and bought quite a bit. I used a butternut squash, but could only find the stovetop stuffing, so went with that. I now have a squash recipe that I will eat and the kids loved it too! Thanks a lot!