Catnip46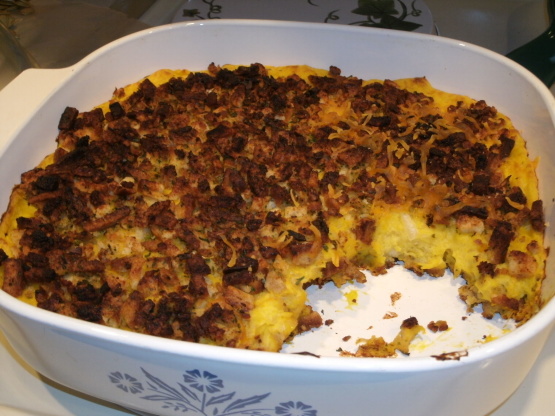 This recipe is a favorite anywhere I take it. It's so good. My mom has been making this for years. I sometimes use only 1 egg and it makes the casserole a little more moist.

I'm sorry I really didn't care for it that much. Nothing wrong with the taste just wasn't my kind of taste I guess. Although I did like the stuffing added to the bottom and top, that made it more tasty. Glad I tried it though and I would recommend other people to try it.
Combine soup, sour cream and eggs.
Fold into squash and onion.
Mix well.
Melt butter and pour over stuffing mix.
Line bottom of 9x13-inch Pyrex bowl with 1/2 of stuffing mix.
Pour squash mix in bowl and top with other 1/2 of stuffing mix.
Bake at 350° for 30 to 40 minutes.
Turn oven off and sprinkle with grated American cheese and leave in oven to melt.