CindiJ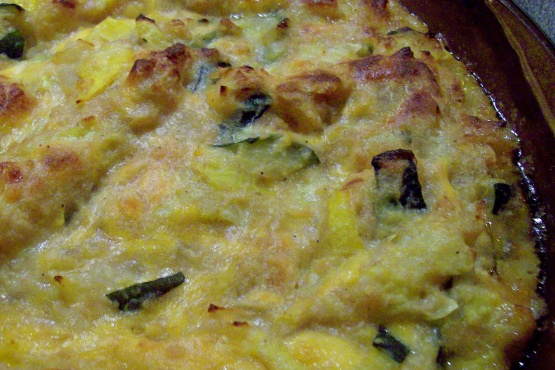 Standard Southern treatment for yellow squash - delicious comfort food. It takes one "sleeve" of saltine crackers to make up the 1 1/2 cups of crushed saltines - depending on how finely you crush them and pack them down this amount may vary a bit. The recipe form won't let me put in "one sleeve of saltines", but that is the amount to use. Some people like a lot of pepper in their squash - if you like things less spicy I'd stick with the 1/2 teaspoon amount.

Top Review by Deb G
Loved this delicious casserole! I made it as posted except for omitting the bread crumbs, and it is wonderful. I love that it does not have a cream of whatever soup or eggs in it. I usually cook onions with my yellow squash and season with garlic powder, too, so this was just right with the addition of the cracker crumbs and cheese.
Preheat oven to 350 degrees.
Place squash & onion in a large pot. Add 1/4 cup water. Cover & cook over medium heat, stirring often. Cook until squash is no longer white and hard in the center of the slices - about 5 to 10 minutes. Drain the squash well.
When squash is tender, turn into mixing bowl. Mix with butter or olive oil and add salt and pepper.
Mix in the milk, cheese and the saltines. Add garlic powder and tabasco. Mix well.
Turn into baking dish greased w/ Pam. Top with bread crumbs.
Bake @ 350 for 40 minutes.
Let stand for 5 minutes before serving.
***This can also be cooked in the microwave. Place the mixture in a microwave-safe dish with a cover. Cover and bake on high for 10 minutes. Let sit for 5 minutes before serving.***.