ChefLee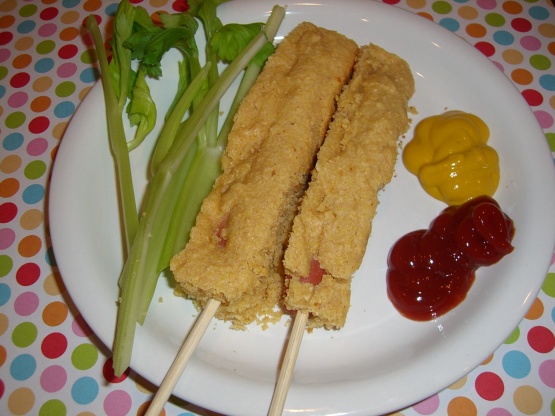 I wanted some corn dogs and I wanted to keep them on the healthy side so I made these up! They're square-shaped corn dogs and baked instead of fried but they're good! Try not to use a Ball Park or bigger franks because this batter is made for the turkey dogs which are skinnier so the batter just cooks around the dog. I hope you like them!

Ok, coming from a "diet nazi" who hasn't had a corndog in like 6 years...OH MY GOODNESS! So good. I made some changes to lower the calories. I skipped the oil, used sugar substitute, egg white only, and unsweetened almond milk. I didn't put sticks in, just baked them, cut them out, and dipped in mustard. YUM.
Preheat oven to 400 degrees F.
Mix all the dry ingredients together in a medium bowl then stir in the milk, oil, and egg.
Mix until dry ingredients are just moistened then pour batter into a greased 8X8 glass baking dish. Spread batter across the dish. (batter will be shallow).
Place turkey dogs into batter and wiggle them a little to coat with batter. NOTE: You can place a toothpick into each dog before baking so you can easily cut them out after the batter bakes around them!
Bake for 20 minutes.
Let dish cool for about a minute then cut around each hot dog and lift out carefully with a spatula.
Place on a stick or just eat! Serve with ketchup or mustard.