bernini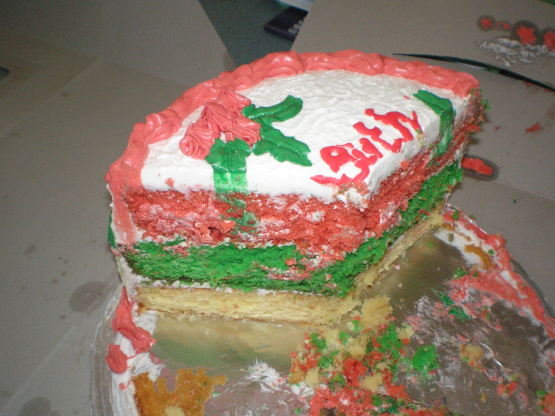 I was having an "Italian Night" dinner party and needed to come up with a dessert. Many Italian desserts are just too rich for my taste, so I thought of spumoni ice cream, but I really wanted a cake. So I decided to try to come up with a cake that had the flavor of spumoni and this is the result!

I would suggest adding 1-2 tables of milk or water to the batters you add the pudding mix to. They were so thick it was difficult to spread in the pan. I added about a tablespoon of water to the green layer and it spread much better. Also if yo notice the boxes of cake mixes you buy now are about 3 ournces lighter. Next time I am going to make my white cake from scratch.
Preheat oven to 350°; grease three 8 inch layer pans.
Mix together cake mix, eggs, water and oil; beat for 2 minutes. Divide batter evenly into 3 separate bowls.
Mix ingredients for one of the layers into each bowl of batter; pour into prepared pans.
Bake for about 25 minutes or until picks inserted in centers come out clean.
Let cakes cool in pans for 5 minutes, then remove to rack and cool completely.
Meanwhile, chill large bowl and beaters thoroughly.
Combine cold whipping cream, sugar and rum extract in chilled bowl.
Beat with electric mixer at high speed until stiff peaks form. To test, lift beaters from whipped cream - stiff peaks should remain on surface.
Layer cake with chocolate on bottom, then pistaschio, then cherry, frosting with whipped cream between each layer then top and sides of cake. Sprinkle almonds on top.