Sprouts & Cauliflower Medley
Kathy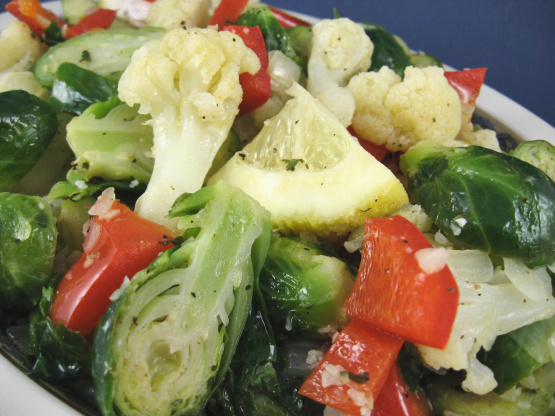 The garlic and lemon makes this one tasty dish. You may substitute broccoli for the sprouts

Top Review by Kathy
I loved everything about this dish! This was my first time making brussels sprouts at home, and I certainly picked the right recipe. The lemon zest and slices were just the right touch to make this recipe special. I left in the garlic and lemon slices -- saw no need to remove them, and that was the right choice. Next time, I will add a squeeze of lemon juice just before serving.
Heat oil in a large skillet add garlic and toss until it browns. You may now discard or leave in the garlic.
Add onion to garlic oil, toss until the onion is almost golden.
Add red pepper and toss for 2 minutes more.
Add steamed Brussels Sprouts & Cauliflower. Season with salt and pepper, toss gently.
Add lemon peel & lemon slices. Cook until heated through. Remove lemon slices (or leave in). Serve immediately.