Bev I Am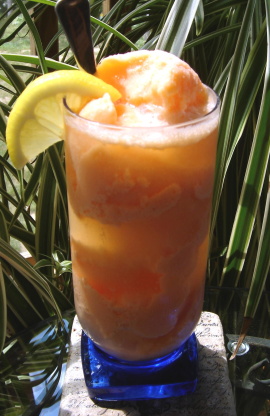 I got this reccipe from Quick Cooking. I usually make it for easter Brunch. Plan ahead..needs time to freeze

Jolene, this slushie is wonderful! I used orange sherbet, 1 pkg or orange jello and 1 pkg of lemon. The taste is sensational! I should admit that I do plan to add a little rum or vodka to my evening glass of this fabulous mixture ; ) This will be great to sip on the patio this summer : ) Thanks so much for sharing, Jolene!
In a freezer container, dissolve gelatin in boiling water.
Stir in the cold water and sherbert until combined.
Freeze for 4 hours or until set.
Remove from the freezer 45 minutes before serving.
For each serving, place 1 cup of slush mixture in a glass; add about 1/3 cup ginger ale.